Silk Screen Printing DIY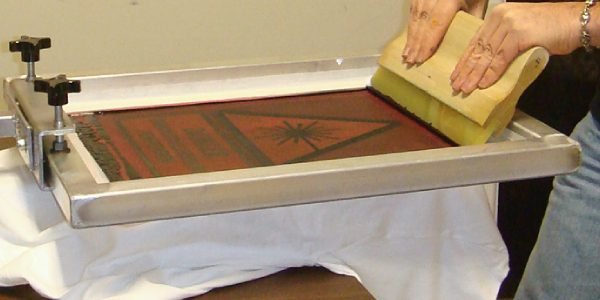 Many people think that silk screen printing at home is a difficult thing. Others tend to believe that it is a very costly hobby or business to get into. The way that I ended up doing this from home on the cheap is that I really don't like to spend money on things that I can create myself. And so I set out to get into something that I love (which is screen printing) for the cheapest cost right from home.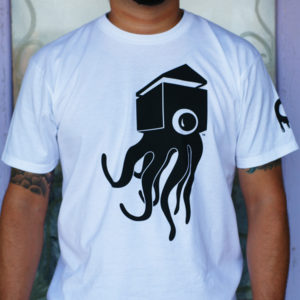 How I Got Started Silk Screen Printing
I am often asked how I got started silk screen printing at home. My answer is always a little varied because it was not just one thing that lead me to this hobby. First of all I would always see entertainers in magazine and in music videos wearing t-shirts and sweatshirts that had awesome graphics and logos on them. And I would search for hours online trying to find where I could buy something similar. I really like sneakers and love to match the colors of the sneakers with the shirts that I wear. Not having much luck finding the retailers for those celebrity tees at prices I was willing to pay lead me into learning how to silk screen print. I guess you can say that early on I was looking to get into this for the cheap!
Where Did I Learn Silk Screen Printing
I really wanted to sport those threads that the music celebs were sporting so I went to the one place that I was sure to learn silk screen printing. Youtube. Once I was there I began to watch video after video of all the processes involved from which type of ink to use, to what quality of t-shirt I should printing my designs on, to how to use a screen printing press. The problem for me was not so much the t-shirts or the ink but the major cost would be securing a press. I searched many online retailers and was blown away by the high initial cost of a store bought screen press. A one color press ranged from $100+ and a 4-color press was roughly $250 and up. Because it was going to be a hobby I kind of thought that was too steep of a price when you included all of the supplies I was looking at about $500 to start off with brand new everything. So I again relied on Youtube for ideas of how to solve this problem.
How To Make A Silk Screen Printing Press
If there was a way to screen print for cheap I was going to find it. So I did a search for "how to make a silk screen printing press" and was surprised to see a number of good videos on the process of making your own. There were some that were made very fancy with metal and all that but at the time those were a bit out of my league. I saw some rather easy ones that I could build DIY that were made out of 2×4's. They featured both a one color press and a 4 color press design. Knowing that I would more than likely be making most of my own designs in a minimum of 2 colors I decided that I would build myself a 4 color silk screen printing press. So I watched as many videos as I could find on the topic of Silk Screen Printing At Home and then I was ready to proceed.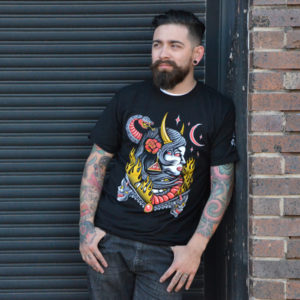 The next day I went to my local big box home store and purchased all of the supplies that the videos instruction stated that I would need. I bought a few 2×4's, screws, c-clamps, lazy susan, and springs and within a day I had built a working 4 color screen press. I later searched Ebay and found a seller that was selling silk screen printing fabric for an awesome price and I ordered it along with a starter kit of screen printing ink and some squeegees. While I waited on the fabric and stuff I looked a videos that showed how to build a silk screen printing frame so I went and purchased 2×2's and made 4 frames.
At this point I was into the whole thing for less that half the price of a profession silk screen printing machine. I however had no illusions about the performance of the DIY silk screen machine over professional one. I knew that eventually I would end up splurging on a professional machine but I wanted to see how far and long I could go with the DIY stuff before doing so. Beside there is a certain level of satisfaction you get from building something on your own. Especially something that could return sever times your $$$$ if you decide to sell your screen printed items or designs. For example check out this Youtube user who has done VERY well ($$$) using his DIY screen press.
Within a few days I was up and running learning everything that I could about my new hobby. I learned how to make t-shirt designs in Photoshop and Gimpshop. I learned how to do color separation for my t-shirt artwork. I also learned where to buy my own t-shirt blanks. I purchased a few tees but was afraid to print on them just yet. I needed to practice printing the ink onto fabric so I found an old white bed sheet and used black ink to practice printing a simple t-shirt design. I spent the whole night printing and flashing until I got the techniques down packed. I then got brave enough to print the design on one of my new blank tshirts and it turned out good.
All in all this was a great way to get into silk screen printing at home. While it was not the most quickest way to get up and running it was the cheapest. I really hope my endeavor into silk screening printing for cheap has sparked the creativity and drive in you to step out and try it yourself. This can be a satisfying and very lucrative hobby if you put the work into it. Please look around this site to see the many DIY and helpful things that I have to share with you. More information on this website